LexOrbis blends decades of IP knowledge, razor-sharp processes, and proprietary technology to offer our clients end-to-end IP solutions. Our robust agent network across more than 180 jurisdictions enables us to support our clients with patent filing and prosecution throughout the globe with a distinctive cost advantage. We liaise as a single point of contact for our clients for all their filing and prosecution needs and offer prompt and seamless global patent filing and prosecution.

Our offerings include:
Pre-Filing Review
The patent process starts with an idea that is conceptualized and then brought into existence after extensive research and development. Before a patent is filed, it is important to gauge whether the invention is novel, inventive, non-obvious, and industrially applicable. Once it is ascertained that a patent should be filed, a drafting process can be initiated.
A patent draft should be carefully reviewed to comply with international filing requirements depending on the type of filing. We offer a detailed pre-filing review of an application to ensure that the draft has no grammatical or obvious mistakes, correct forms have been prepared, there is no missing information on the forms and the fee calculation is correct based on the type of application and entity status.
Our trained team is familiar with filing requirements in multiple jurisdictions and offers support to eliminate any procedural objections.
Patent Drawings
As a rule, the harder the invention to define, the more important it is that the IP drawings be simple, clear, and accurate.
Our skilled team of illustrators with an eye for detail and the right technical background can create utility and design patent drawings showing parts of a device, assembly, electric circuit, components of a system, flow chart of a process, views of structural appearance, whichever is claimed in a patent. The drawings are prepared in accordance with the different jurisdictional requirements ready for filing with the international patent offices including the USPTO, EPO, CHINA, ARIPO, IPO, South Korea, etc.
Clients can share with us the concept through rough sketches, photographs, product samples, references from the internet, etc. Our expert team, led by patent engineers with deep domain expertise will prepare comprehensive drawings with the aid of software such as autoCAD, Solid works, MS Visio, etc. Our team has expertise in the domains of mechanical & electrical engineering, biotechnology, high-tech, biomedical devices, and many more.
Carrying a collective experience of more than 35 years, our team has worked on more than 5000 drawings of various types.
Application Preparation and E-filing
The timing to file a patent application at the earliest is critical in claiming your invention. We can help you prepare the application package and take care of most of the administrative tasks.
Once you have considered the options of the type of protection required, whether domestic or international and the type of application to be filed whether provisional or non-provisional, one needs to get the application package ready for submission to the patent office. We prepare the application as per its continuity status – First filed/ Continuation/ CIP/ Divisional/ National Phase entry. The draft application is proofread and formatted, initial IDS prepared, and all associated forms filled up along with ADS.
Our team is well versed with the jurisdictional requirements of different types of applications have prepared over 1200+ packages.
Office Action Response
A comprehensive response to a non-final and final office action, received from various patent offices, requires technical, legal, and paralegal skills.
Our experts have an understanding of technical and legal rejections/objections raised by the examiner from the patent office. The response is developed by a skilled technical and legal expert who provides inputs and arguments based on the understanding of the technical aspects of the claimed invention and the cited prior arts along with the legal input by the attorney.
Office action responses are filed in specific formats. Using proprietary tools, we can support attorneys in creating response templates for easy use and to enable focus on the technical aspect of the response. We also assist with pending formalities, required drawing corrections, and coordinating with partners in other jurisdictions to review and submit the office actions.
The response is shared in a ready-to-file format which minimizes the time taken by local agents/ attorneys. We can work with rush requests and get on calls with attorneys for discussions and finalizing the responses. We have worked on more than 10000 Office Action Responses to date.
IDS Management
In US patent prosecution, disclosing all prior art related to the claim in the form of an Information Disclosure Statement (IDS) is mandatory under 37 C.F.R. § 1.56.
Any instance of a missing prior art could lead to the patent being not enforceable and lose its validity. Preparing an IDS is a complex process that requires tracking of prior art references cited across all family members from all possible sources. The complete IDS process can be a drain on the internal IP teams where managing large families is concerned. Our team will act as an extension of yours and continually improve the process to achieve better results. We offer flexible turnaround times based on the number of references and the family size.
Our expert team has worked on clients IDS databases and maintained them as an extension to client's team.  We have worked on more than 7500 IDSes and we follow a semi-automated process to extract family information, their references, download non-US prior art, obtain machine translations, and populate the SB-08 form.
Post Allowance Review
Post Allowance Review is an attempt to ensure no gaps are left with regards to the completeness of documentation and prosecution formalities before the patent is granted.
As a trusted and experienced partner in post allowance reviews, we help you to identify obvious errors/gaps which may lead to the grant of your patent with errors. Our team reviews the entire patent file wrapper thoroughly and brings forth inconsistencies in the formal document submission, priority data, signatures, proofreading errors, and the like. Once the notice of allowance is issued by the examiner, examination of the application stops, and this is the last opportunity for the applicant to make any last-minute changes to the application before the issue fee can be paid within 3 months from the date of issue of NOA. This deadline is non-extendable.
We share with our clients a detailed post allowance review report, along with a copy of the marked-up and clean allowed claim set.  Additionally, our team can also prepare a matrix for all the unsubmitted prior arts and prepare IDS to be submitted to USPTO.
Patent Proofreading
A substantial percentage of patents continue to pass through the post-issuance correction process that leads to a Certificate of Correction (CoC). Patent Proofreading helps identify such critical errors that warrant a need for CoC. The responsibility to rectify errors lies on the applicant irrespective of whether it is the PTO or applicant that had committed errors.
Internal legal/IP teams of corporates and law firms find proofreading to be an extremely time-consuming and tedious affair. Proofreading is a multi-check process applicable across various stages of a patent cycle. It involves a thorough reading and understanding of the patent application/issued patent and, requires expertise to figure out errors included therein.
Our Proofreading service helps in identifying errors on the face page, claims, and the entire patent. Some of the errors identified are critical which could undermine the entire validity of the claims. We also review patents for grammatical errors, data consistency, and structure, to bring proper meaning between what is intended to claim and what is claimed.
Patent Term Adjustment
As per USPTO nearly 50% of all the patents issued require Patent Term Adjustment (PTA) to be calculated.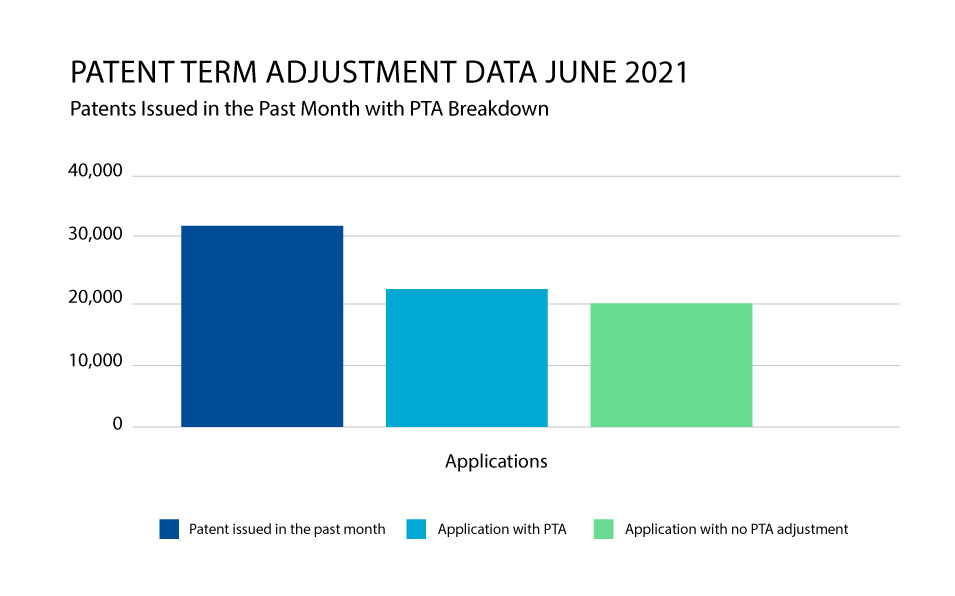 https://www.uspto.gov/dashboard/patents/patent-term-adjustment.html
We calculate the PTA and provide a detailed report with the number of days to be added to the patent wherever applicable. We have a semi-automated process to calculate PTA. We calculate PTA basis the A, B & C delay which is defined by the congress under 35 USC 154(b). We analyze office actions, restriction requirements, and notice of allowance documents to calculate both PTO and applicant-related delays and factor those while calculating the final PTA. Taking PTA days into account, we also calculate the updated patent expiry date of the patent.
Our semi-automated process backed by an experienced team will make sure to add additional days where applicable. We have calculated more than 2000 PTA's and we follow all the latest judgments for accurate calculations.
Paralegal Support
With fluctuating caseloads and tight deadlines, getting the right administrative support is crucial.  Paralegal functions extend throughout the IP lifecycle including preparation and filing of prosecution forms, coordination with outside counsel(s), tracking timelines, reminders, status checks, report generation, etc.
We provide on-demand paralegal services to law firms and corporations with our experienced team of senior paralegals. Our team offers end-to-end customized paralegal support to clients. We work as an extension of your in-house team to cater to any or all the tasks assigned to a paralegal. Our experienced team is knowledgeable on the US and international IP prosecution and can learn your in-house practices with minimum lead time.
Our flexible business model offers options to engage in hourly, half-time, or full-time equivalents, as per your requirements.