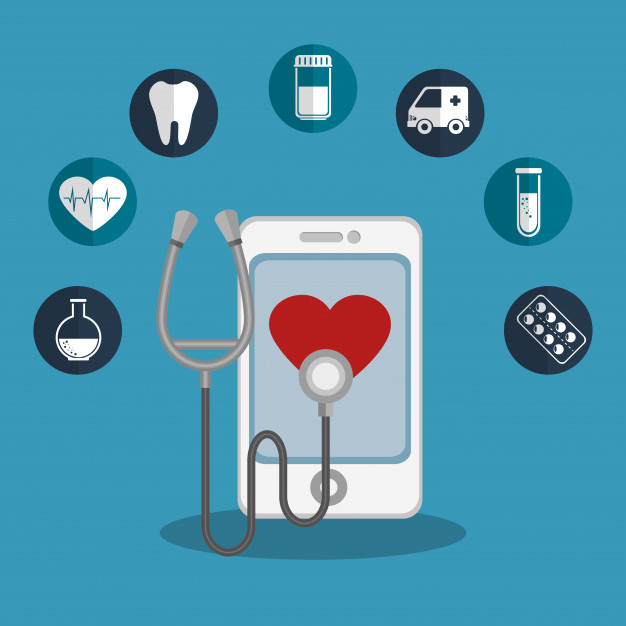 Disasters and pandemics cause exceptional challenges for validating the existing state and infrastructure for providing healthcare services to the public and need for improvement thereon. The dire requirement for providing safe means for prevention and treatment as evidenced in current global pandemic of COVID-19 (SARS CoV-2) has solved the long pending puzzle regarding feasibility and application of telemedicine concept in India. As per the Indian pharmaceuticals industry report by Indian Brand Equity Foundation (IBEF), India's telemedicine market is expected to rise at a CAGR of 20 per cent reaching to US$ 32 million by 2020. While, the spreading infection becoming more unpredictable with time, Government of India (GOI) has provided a significant solution for the Indian healthcare by releasing telemedicine guidelines on March 25, 2020. The ideology behind the said concept was initiated in 1925 when Dr. Hugo Gernsback illustrated an odd invention called the "teledactyl", using an imagined tool with spindly robot fingers and radio technology for examining patients from a safe distance, and subsequently showed a video feed of the patient to the doctor. Although the invention did not get past the concept stage, it led the journey for the present concept of telemedicine serving as a virtual consultation between doctor and patient. Later in 1970s, the term "telemedicine" was set forth by Thomas Bird considering a provision of clinical services to patients by medical practitioners from a distance using electronic means. Thus, the telemedicine and virtual consultation provides meaning as 'healing from a distance' by using a process of getting a medical opinion through a chat session with the physician using various electronic medical records and without being physically present.
The concept of telemedicine was in limelight when in June 2015, a U.S. based company American Well, filed a patent infringement suit against a company Teladoc alleging that it is using the same algorithm to connect the consumers and physicians. The law suit was filed in the U.S. District Court for the District of Massachusetts. American Well is a service provider company in telehealth services for issues like cold or infection and chronic diseases such as diabetes or depression. Further, the company had also started access to affordable healthcare using the mobile and web technology. The patent in question was US7,590,550, titled Connecting consumers with service providers. One year later the federal court dismissed the lawsuit and held that the patent invalid stating the reason of being 'too abstract'. Later, the U.S. Patent and Trademark Office (USPTO) also invalidated parts of American Well's telemedicine patent in August 2016. It is an interesting fact that Teladoc was founded in 2002, four years earlier from American Well, while the patent was granted in 2007.
Earlier Scenario and need of the telemedicine
In India, the concept of virtual healthcare was launched as social endeavour for health and telemedicine (SEHAT) way back in 2015. Despite being a novel initiative to connect 60,000 health structures, SEHAT failed to attract the Indian population primarily because of poor digital health ecosystem and lack of adequate regulation of managing the medial data and legal validity to telemedicine practices. In certain cases, establishing a vicarious relationship can increases errors. Further, the risk of misdiagnosis is there due to lack of legal acceptance. Earlier in 2018, in case of Deepa Sanjeev Pawaskar & Anr. Vs the State of Maharashtra, the Bombay High Court (HC) refused to grant anticipatory bail to doctors involved in the treatment of a patient who ultimately died, and the plaintiff (husband of the deceased) accused them of criminal negligence. The said case involved use of telecommunication as a medium of consultation and as no legislation was available governing the practice of telemedicine consultation, HC judgement was against the practice of teleconsultation by medical practitioners.
The concept of virtual consultation and telemedicine has thus remained a long-drawn challenge in view of the infrastructural backlogs as well as the mental hurdle of the public. Although, telemedicine concept aimed at providing better healthcare facilities to the rural population for overcoming the constraints from dearth of medical practitioners in those areas; the issue of 'broadband connectivity' persisting in such areas has dampened the objective of delivering uninterrupted access to telemedicine services. However, the sudden outbreak of COVID-19 induced countrywide lockdowns and the limited accessibility to healthcare centres in the unlock phases has unearthed the necessity of implementing virtual system. Further, the inequality of healthcare professionals emphasises the necessity of practically working out the long-awaited virtual healthcare. Further, the rural India is in urgent need for the basic healthcare infrastructure that would also help to cope up with the minimum health requirements even in a post-COVID world. Telemedicine and teleconsultation pave the way to meet the challenge of providing quality healthcare along with providing fast exchange of patient information, symptomatic and remedial measures, private consultations, and therapeutic services among healthcare providers, patients, planners, and the doctors even for the rural areas. To meet such requirement, Indian government has taken proactive steps by issuing the long pending guidelines to decongest the healthcare facilities for consulting doctors remotely without disrupting the lockdown measures and also reducing the chance of transmission of novel corona virus in the restricted unlock periods.
Analysis of guidelines
The Ministry of Health and Family Welfare (MoHFW) has issued the Telemedicine Practice Guidelines (Guidelines) in partnership with NITI Aayog on March 25, 2020. These guidelines provide clarity and directions for Registered Medical Practitioners (RMPs) to treat patients remotely. Earlier several concerns were raised regarding the registration, licensing, liability, quality, privacy, and confidentiality issues, as well as other risks associated with such telemedicine services. Consequently, the Indian Medical Association (IMA) requested the Medical Council of India (MCI) to lay down guidelines for the doctors for the practice of telemedicine in India. These guidelines provide clarity for the doctors in India to practise virtual consultations with patients. While, the risk of affecting doctors by communicable diseases are high, the awareness and prevention are the key ways to avoid complications, whereas, telemedicine and artificial intelligence (AI) play an important role in providing virtual data and stratifying the risks. For example, online platforms such as 'practo' and 'DocOnline' are working for facilitating online medical consultations albeit in a controlled manner. The guideline indicates that RMP, well-versed with the telemedicine guidelines and having undertaken the online program by MCI within 3 years of its notification, is eligible to practise teleconsultation. Telemedicine applications can be classified into four basic types based on mode of communication, timing of the information transmitted, the purpose of the consultation, and the interaction between the individuals involved such as RMP to patient/caregiver, or RMP to RMP.
However, these services are to be avoided for emergency care when alternative in-person care is available, and telemedicine consultation should be limited to first aid, life-saving measure, counselling, and advice on referral. For example, a new patient may present with a simple complaint such as headache while a known patient of diabetes may consult for a follow-up with emergencies such as diabetic ketoacidosis and shall be treated accordingly. Prior to the initiation of a teleconsultation, the patient and the RMP are required to be introduced to each other and patient should be informed with registered practicing number of RMP approved by the state or MCI. Although multiple technologies can be used for teleconsultations, in practice, Video, Audio or Text modes are most convenient. Online providers shall conduct their due diligence before listing any RMP and communication mode would depend on patient. However, technology platforms based on AI/machine learning are not allowed to counsel the patients or prescribe any medicines. Further, the written consent of patient is an essential factor for teleconsultation.
Usually two types of patient consultations, namely, first and the follow-up consult has been recorded. First consultation relates to patient's first session with the RMP, if more than 6 months have lapsed since previous consultation and when consultation is done for a different health condition. A follow-up consultation includes a meeting related to the same health issues within 6 months of the first consultation, provided no new symptoms are added and the RMP can recall the previous treatment. Chronic disease or treatment for cases such as diabetes, hypertension, epilepsy etc. are some examples. The guideline has further enforced certain restrictions for prescribing of medications categorising the medicines as per the list categorized as: (i) List O refers mostly to the Over the Counter (OTC) drugs that are commonly available e.g. paracetamol, cough syrup, ORS, (ii) List A refers to medications that are prescribed during the first consult through video consultation and are being represcribed for re-fill (safe drugs with low potential of abuse), (iii) List B includes certain medications that are referred in a follow-up consultation in addition to those prescribed during in-person consultation for the same condition, and (iv) Prohibited List refers to drugs under Schedule X of Drug and Cosmetic Act and Rules, 1945 or any Narcotic and Psychotropic substance listed in the Narcotic Drugs and Psychotropic Substances, Act, 1985 having potential risk of abuse.
The guideline strictly imposes that RMP can prescribe medications through teleconsultation only after gathering adequate information from the patient, while prescribing medicines without an appropriate diagnosis/provisional diagnosis will amount to a professional misconduct. Therefore, patient management also includes providing health education, counselling for specific clinical conditions, and providing specific treatment by prescribing medicines in List O and List A following the prescribed professional conduct, etiquette and ethics under IMC and regulations provided under Drugs and Cosmetics Act and Rules. Further, the guidelines emphasize support and encourage interaction between RMPs/ specialists using information technology for diagnosis, management, and prevention of disease through tele-radiology, tele-pathology, and tele-ophthalmology.
Conclusion
The issuance of the telemedicine guidelines implicates a legalized methodology for practicing virtual consultation for providing requisite healthcare facilities and would also help doctors to reach countrywide population irrespective of economic conditions and geographical location. However, since the practice of telemedicine is distinct from the traditional practice of medicine, several complexities dealing with technological matters would be observed gradually. In this regard, setting up a separate licensing process for the practice of telemedicine would be helpful to streamline the process. Such a separate licensing process would also enable to reach for doctors practicing outside India, who are not licensed to practice traditional medicine or telemedicine under Indian Law. The telemedicine concept can be ideally availed in a campaign launched by the government i.e. 'Digital India' for ensuring improved healthcare facilities to the people, and such an effort requires implementation of better internet facilities in the remotest parts of the country. Although telemedicine would not solve all the medical necessities of the public, but it is the need of the hour for the medical staff to provide medication without coming in contact with the patients thereby curbing the spread of COVID-19 infection. Thus, with gradual implementation, the nascent concept of telemedicine would exhibit significant advancement in healthcare sector even in a post COVID phase. It is expected that the application of telemedicine will create a fair opportunity in the healthcare sector provides job opportunity as well.
---
Article by Pankaj Musyuni and Indrani Adhikari, 1st published on Lexology.