The sportwear company New Balance Athletics Inc. recently obtained a favourable judgment from Delhi High Court in a trademark infringement suit against NinePlus Shoes Private Limited. The dispute arose when New Balance accused NinePlus Shoes of using a slanted "N" logo that was similar to New Balance's iconic "N" logo. The infringement was based on New Balance's trademark registration for N device marks ( 

 ).
New Balance argued that NinePlus Shoes used a slanted "N" logo that bore a striking similarity to New Balance's iconic "N" representation. Given that both companies offered similar products, New Balance contended that this similarity could confuse customers with average intelligence and imperfect recollection. The comparison was shown as under: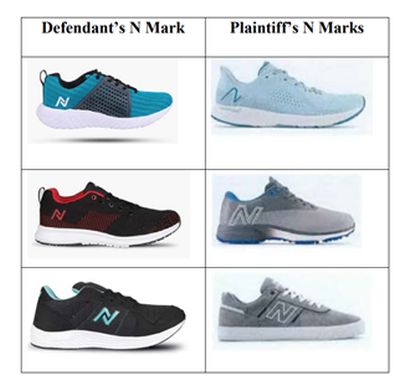 In August 23, 2022, the High Court of Delhi granted an ex parte ad interim injunction against NinePlus from manufacturing, selling, offering for sale any shoes, footwear or cognate or allied products bearing the N device marks, New Balance or the NB logo belonging to the New Balence. This order was later modified on April 5, 2023 and permitted NinePlus Shoes to continue using the word "NINE" on its shoes, but only if the word is not stylized in a way that is similar to New Balance's "N" logo. nce.
The defendant's right to file a written statement was closed on November 11, 2022, and NinePlus Shoes expressed willingness to concede to the plaintiff's claims and requested the suit to be decreed in line with the court's order dated April 5, 2023, which allowed the use of "NINE." The court issued a decree in favour of New Balance, permanently restraining NinePlus Shoes from using the "N" logo.
The court deferred the consideration of prayer (f), which sought a declaration of New Balance's trademarks 

as well-known, for a separate examination based on statutory criteria. This is a significant victory for New Balance, which has been aggressively protecting its trademarks in recent years.