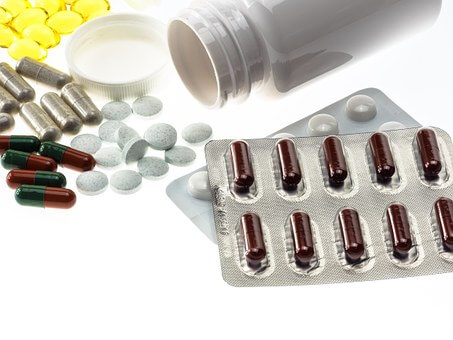 E-pharmacies are platforms for purchasing medicines via online means by using internet and these orders are delivered at customer's place. Over the time since the conception of e-pharmacies in India, the mode of giving online orders, receiving orders and timely delivery has resulted in consumer's satisfaction and increased demand in this sector. India's pharmaceutical industry is considered as the largest supplier of the generic medicines globally[i][ii]. According to the Indian pharmaceuticals industry report[iii] by Indian Brand Equity Foundation (IBEF), India's contribution to the generic global exports is about 20% and expected to reach USD 22 billion by 2020.
As per another survey report by Frost & Sullivan[iv], the e-pharmacy market is expected to reach INR 25, 000 Crores by 2022. E-pharmacy, though considered is at initial stage in India, has positioned itself as an excellent innovative concept and model for healthcare industry. It is expected to grow in the coming years with the rapidly changing consumer's requirement, ease of doing business opportunities, favorable regulatory environment and economic development in India where access to medicines and online services are currently in demand.
Considering the recent pandemic of COVID-19 (SARS-CoV-2) which caused complete lockdown to prevent the spread of the infectious diseases, the need for the e-pharmacies had been noticed particularly with respect to the patients having chronic diseases.
Understanding of e-pharmacy
Though, there is no universal classification for models of the online pharmacy; based on the current practice it is usually characterized into organized and non-organized system. While, the organized system confirms the prescription, maintains the electronic records and gives advisory to patients about the side effects and dosage information; the non-organized system does not have such facility and have legal and auditing issues for providing such services. It is a known fact that the concept of e-pharmacy is well received globally by many countries[v] and similarly important for Indian market having high demand and use of medicines due to large population. In India, 1 MG, Netmeds, Bookmeds, mChemist, Medlife, Pharmeasy, Medidart, Medstar, Zigy, Save on medicals and Save my meds are some important players operating and providing services in this sector.
It is essential to understand the modus operandi of e-pharmacy. It works primarily by providing ease of access to order the medicines without physically visiting any medical store by the customer. Additionally, the data record for chronic diseases and other ailments can be maintained at the service provider's end which would further add to the choice of the drug required and would be helpful in selection from the various available generics.
It is essentially helping those patients which need long-term medication. Similarly, from the perspective of regulators, the said model will also be helpful for assisting regulators for keeping a track of the accumulated data and authenticity of the supplied medicine to a customer. Additionally, this is a better opportunity for pharmacists for enhancing the scope of providing better services to clients and for consolidation and better management of inventory at the store.[vi]
Benefits of e-pharmacies
The primary advantages of e-pharmacies are their availability and easy access using digital technology to order the need effortlessly and promptly with an option for choosing among the alternative required generic medicines. The transparency in pricing and reduced cost in e-pharmacies is also a major reason perhaps due to elimination of middle supply chain such as distributors and stockist. In addition, a planned strategy for distribution in rural areas would be achieved for convenience and doorstep delivery of medicines.[vii] Accordingly, the model provides a mutual beneficial set-up between the customer and service provider.
Regulatory and Legal Framework
In India, the regulatory provisions for manufacture and sale of medicines are covered under the Drugs and Cosmetics Act, 1940 (D&C Act), Drugs and Cosmetics Rules, 1945 (D&C Rule), Pharmacy Act, 1948, Information Technology Act, 2000 (IT Act)., Indian Medical Act, 1956 and Code of Ethics Regulations, 2002, Narcotic Drug and Psychotropic Substances Act, 1985 and Drugs and Magic Remedies (Objectionable Advertisement) Act, 1954[viii][ix].
However, these donot define the regulations for online sale and monitoring of pharmaceutical medicines clearly. Accordingly, various stakeholders approached the government which then constituted an expert committee under the chairmanship of Maharashtra's ex-Food and Drug Commissioner Dr. Harshdeep Kamble in the 2015, to assess the possibility of online pharmacy sector in India[x]. After continued discussions and various deliberations, the Ministry of Health and Family Welfare vide its notification G.S.R. 817 (E) dated August 28, 2018[xi] came out with a draft to amend the Drugs and Cosmetics Rules, 1945 ("Rules").
The Draft Rules include certain provisions added Part VIB for sale of drug by e-pharmacy. Under the draft rules, the term 'e-pharmacy' has been introduced to define it as the business of distribution or sale, stock, exhibit or offer for sale of drugs through a web portal or any other electronic mode. Further, the terms 'e-pharmacy portal' and 'sale by way of e-pharmacy' has been suitably defined.[xii]
In addition, provisions for application for registration and its validity; conditions for registration imposed on the e-pharmacy like location, disclosure of information, procedure for distribution and sale etc. were provided. Certain restrictions are imposed on the e-pharmacy which include the prohibition of advertisement any drugs on radio, television, internet, print or any other media for any purpose; and restriction on dealing in narcotic and psychotropic drugs as defined under the Narcotic Drugs and Psychotropic Substances Act, 1985, tranquilizers and the drugs specified in the Schedule X of the Rules.[xiii]
Additionally, monitoring of e-pharmacy, complaint redressal mechanism has been introduced which provides the rights to file a complaint to the state drugs controller (the "Drugs Controller") for any suspicion of supply of non-standard quality, adulterated or misbranded drugs through the e-pharmacy besides the Consumer Protection Act, 1986. However, the Draft Rules are still pending for approval.
Stance of the Delhi and Madras High Courts
Pursuant to issuance of the Draft Rules, various petitions were filed in Delhi and Madras High Court(s) seeking a ban on all e-pharmacy operations, due to public safety.
Later, the Madras High Court pronounced a decision for temporarily banning the online sale of drug and also directed the government to notify the regulations by January 31, 2019 on a petition filed by Tamil Nadu Chemists and Druggists Association[xiv],which was later extended by July 31, 2019.
Further, in an official letter dated November 28, 2019, the Drugs Controller General of India (DCGI) issued a notification to all drug Controllers to enforce an order given by Delhi High Court in December 2018 in the case of Zaheer Ahmed v. Union of India[xv] which prohibited the online sales of medicines without a valid license[xvi]. The order was given in response to a public interest litigation (PIL) filed by Delhi-based dermatologist Dr. Zaheer Ahmed who submitted that in absence of monitoring, online sale of medicines would be a risk to patients and doctors[xvii].
The said letter is the latest progress about development of e-pharmacy policy and regulation in India, which seems to be reconfirming the existing position of the scenario that online sale should not be done by the pharmacies not having valid license for the same[xviii].
Comment
Considering the developments, it seems that the government and judiciary have had a positive approach towards framing a policy for regulating the e-pharmacy sector in India. According to a research note by foreign brokerage CLSA, it is expected that e-pharmacy sector is likely to grow seven times to USD 3.7 billion by 2020 wherein about 50 start-ups are selling online medicines in India.[xix]
Recently, in January 2020, the Federation of Indian Chambers of Commerce and Industry has strongly advocated for urgent notification of draft e-Pharmacy Rules to avoid confusion among various stakeholders.[xx] The trade body also urged that delay is not favorable for this important and growing sector and expressed its concern for general investment and regulatory climate which needs further clarifications and advised that e-pharmacies are in compliance with the national development objectives.
Having said that, there is still a need for clarity, to find and check the different perspective of the e-pharmacies to be effectively beneficial for the patients and service providers. This majorly depends on how these Draft Rules are implemented. However, since the proposed Rules are offering the data localization system and providing provisions for protection of personal information of patient and right to privacy, it is expected that implementing these Rules will give ease to business to service providers and achieving increased demand and trust of the customers.
Considering the continuous growth of e-commerce industry and the pandemic situation such as now due to SARS-CoV-2 which disable the customers from visiting the pharmacies, the Draft Rules, if implemented, will be helpful in providing the much required definitive regulatory framework to make sure proper functioning of the e-pharmacies in India.
Besides providing a robust policy for regulation of online medicines in India which addresses the concept of easy access to medicines at doorstep, it is expected that major expansion of the e-pharmacy era in near future will open the exciting opportunities in the healthcare sector.
---
Article by Pankaj Musyuni, 1st published in RGNUL Student Research Review (RSRR)
[i]News article 'India can become the pharmacy of the world', Available at https://www.thehindubusinessline.com/opinion/india-can-become-the-pharmacy-of-the-world/article31516558.ece (last accessed June 10, 2020)
[ii]News article 'The world' pharmacy', Available at https://www.telegraphindia.com/science/the-worlds-pharmacy-some-facts-about-generic-drugs-answered/cid/1766282 (last accesses June 10, 2020)
[iii] Indian Pharmaceuticals Industry Report, Available at: https://www.ibef.org/download/Pharmaceuticals-March-2020.pdf, (last accessed May 20, 2020)
[iv] e-Pharmacy in India, An Exponential Growth Opportunity, Available at: https://ww2.frost.com/wp-content/uploads/2019/01/Frost-Sullivan-Outlook-on-e-pharmacy-market-in-India.pdf, (last accessed May 22, 2020)
[v]An article titled 'Online pharmacies: A boon or bane? Available as: 'Desai C. Online pharmacies: A boon or bane? Indian J Pharmacol. 2016 Nov-Dec;48(6):615-616. doi: 10.4103/0253-7613.194865. PMID: 28066095; PMCID: PMC5155458', (last accessed June 11, 2020)
[vi]Accessible at:https://www.indianbarassociation.org/wp-content/uploads/2019/05/E-Pharmacy-in-India-Last-Mile-Access-to-Medicines_v6.pdf, (last accessed May 23, 2020)
[vii] E-Pharmacy in India: Last mile access to medicines, Available at:https://www.indianbarassociation.org/wp-content/uploads/2019/05/E-Pharmacy-in-India-Last-Mile-Access-to-Medicines_v6.pdf, (last accessed on May 25, 2020)
[viii]An article titled 'E-pharmacies regulation in India: Bringing new dimensions to pharma sector', Available at: https://www.hilarispublisher.com/open-access/epharmacies-regulation-in-india-bringing-new-dimensions-to-pharmasector-2167-7689-1000175.pdf (last accessed on June 10, 2020)
[ix]Information available at: http://www.nishithdesai.com/information/areas-of-service/industry/pharma-life-science.html, (https://www.nishithdesai.com/) (last accessed June 09, 2020)
[x]A news article on the e-pharmacy issue, Available athttp://pharmabiz.com/NewsDetails.aspx?aid=114122&sid=3 (last accessed May 28, 2020)
[xi] Notification dated August 28, 2018 by Ministry of Health and Family Welfare, Available at: http://egazette.nic.in/WriteReadData/2018/189043.pdf (last accessed May 24, 2020)
[xii] Ibid.
[xiii]Ibid.
[xiv]Order dated October 31, 2018 in The Tamil Nadu Chemists and Druggists Association v. The Union of India. And Others., WP/28716/2018.
[xv]W.P.(C) 11711/2018
[xvi]Pharma& Healthcare Update, Available at:http://www.nishithdesai.com/information/news-storage/news-details/newsid/5845/html/1.html, (last accessed on May 28, 2020)
[xvii]News article on States told to restrain unlicenced e-pharmacies, Available at: :https://economictimes.indiatimes.com/industry/healthcare/biotech/pharmaceuticals/states-told-to-restrain-unlicenced-e-
pharmacies/articleshow/72358177.cms?utm_source=contentofinterest&utm_medium=text&utm_campaign=cppst, last accessed on May 26, 2020)
[xviii]An article on India:Pharma Year-End Wrap: Signs Of Exciting Times Ahead, Available at: https://www.mondaq.com/india/healthcare/880310/pharma-year-end-wrap-signs-of-exciting-times-ahead, (last accessed on May 26, 2020)
[xix] An article titled States told to restrain unlicenced e-pharmacies, Available at: https://economictimes.indiatimes.com/industry/healthcare/biotech/pharmaceuticals/states-told-to-restrain-unlicenced-e-pharmacies/articleshow/72358177.cms?utm_source=contentofinterest&utm_medium=text&utm_campaign=cppst, (last accessed on May 29, 2020)
[xx]An article under Policy & Regulations, available at http://www.pharmabiz.com/NewsDetails.aspx?aid=120569&sid=2, (last accessed on May 27, 2020)