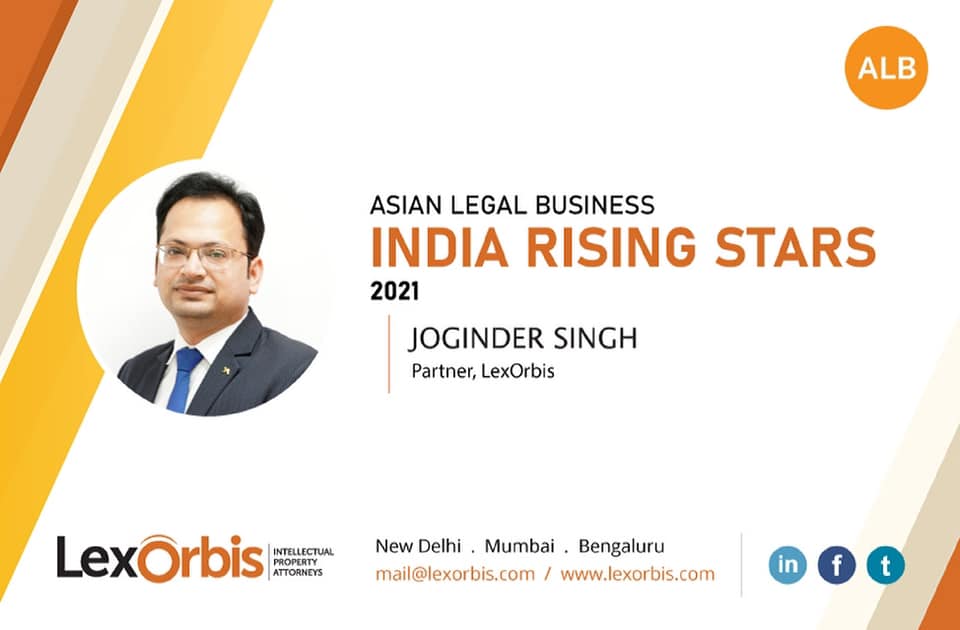 We are pleased to share, Joginder Singh, our partner at Delhi office has been recognized among " ALB Rising Stars India 2021".ALB has listed top 50 lawyers who are making an impact on Indian Legal scene.
ALB Says: Singh, who focuses on intellectual property, heads the engineering patent practice at LexOrbis. He has over 12 years of experience in patent services and has handled both contentious and non-contentious patent matters.
Additionally, Singh drafts and prosecutes patent applications before Indian Patent Office and assists in the prosecution of foreign patent applications.
He also works with several national and international clients for managing their patent port- folio, and provides technical support during patent litigations and oppositions.
Among his noteworthy work, Singh has helped Ericsson in getting almost 726 Indian patents and also supported Interdigital in adding nearly 133 Indian patents to its portfolio.
Anoop Jain of Samsung Research Center says: "I have been working with Joginder for last six years, and during this period he has impressed me with this quality of deliverables, depth of knowledge, and practical approaches to provide us resolutions of the matters. His expertise coupled with his collaborative and innovative spirit and sincere attitude made him the go-to expert for our most significant projects."
Read more at: https://www.legalbusinessonline.com/sites/default/files/e-magazines/ALB-INDIA-JANFEB-2021/viewer/desktop/index.html?doc=A2F389AF1C2CC6382744DC7B2FBA24CE#page/1
#ALB #ALBRisingStars #IP #IPR #Law #Legal #Recognition #gratitude #India #LexOrbis