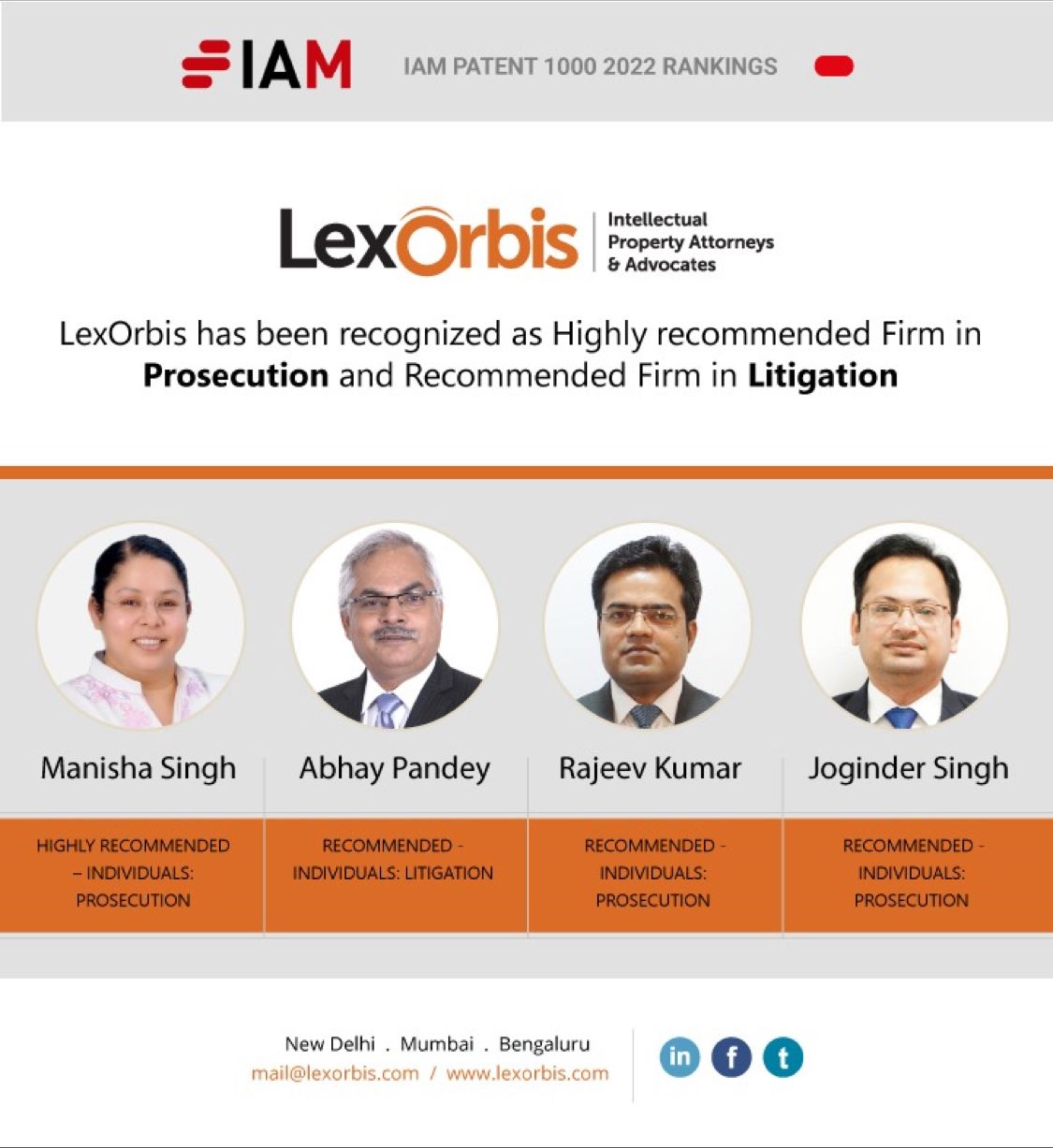 We are delighted to share that LexOrbis has been ranked as a Highly-recommended Firm for Prosecution & Recommended Firm for Litigation in the latest edition of IAM1000. Our partners are also recognized by the prestigious IAM Patent 1000: The World's Leading Patent Professionals by IAM; Manisha Singh is recognized as Highly recommended for prosecution, Abhai Pandey is Recommended for litigation Rajeev Kumar and Joginder Singh are recognized as recommended Individuals for prosecution amongst World's leading patent professionals.
IAM says "Prolific filer LexOrbis realizes the importance of technically minded staff: throughout its 25 years in operation, it has been attracting engineers and scientists from well-known research institutions. The firm now boasts an end-to-end engineering and sciences patent practice, familiar with sophisticated subjects such as artificial intelligence, big data analysis, the Internet of things, and fintech. On the sciences side, it aids big pharma and biotech companies in patent portfolio management.
"Founder and managing partner Manisha Singh uses her vast knowledge of intellectual property and business acumen to deliver ingenious solutions to universally renowned clients, and her vast experience produces glowing results in both contentious and non-contentious matters." Ms. Singh is known for her astute understanding of patent laws, and for providing practical and business-oriented solutions to a vast number of clients.
"Equally well-rounded is Joginder Singh, an electronics and telecommunications expert who aids patrons in India and abroad." Mr.Singh has a rich experience in patents-related work.
IAM Praised our Partner & Head of litigation and enforcement Abhai Pandey, quoted – "has successfully represented major clients before the IPAB and the Indian Patent Office, as well as several high courts."
"Pharmaceuticals major Rajeev Kumar drafts and prosecutes patents in India and abroad in the field of life sciences." We extend heartfelt gratitude to IAM and to our clients & colleagues! #IAM1000 #IP #Patents #Litigation #Law #Prosecution # Gratitude #India #Lexorbis