Emerging IP litigation scenario:
The Delhi High Court which receives almost 60% of all form of IP litigations in India has witnessed a dip in filing of new law suits in the first quarter of 2016, consequent to the amendments made in the Delhi High Court Rules to increase the pecuniary jurisdiction of the Court from Rs.20 lakhs to Rs.2 crores. In 2015, about 814 new IP law suits were filed before the Delhi and Bombay High Courts. In the first two quarters of 2016, the number dipped to about 304. In both the years, almost 54% of law suits were filed in connection with infringement of trademark, trade dress or passing off.   The number of disposal of law suits have also increased during 2015 and about 623 IP cases were decided by the Delhi and the Bombay High Courts. There has been a significant increase in issuance of ex parte ad interim injunctions (preliminary injunctions) by these two Court and in 2015 both these Courts issued ex parte interim injunctions in 388 cases. These developments and the category of IP cases filed before the Delhi and Bombay High Courts are reflected in the graphs below: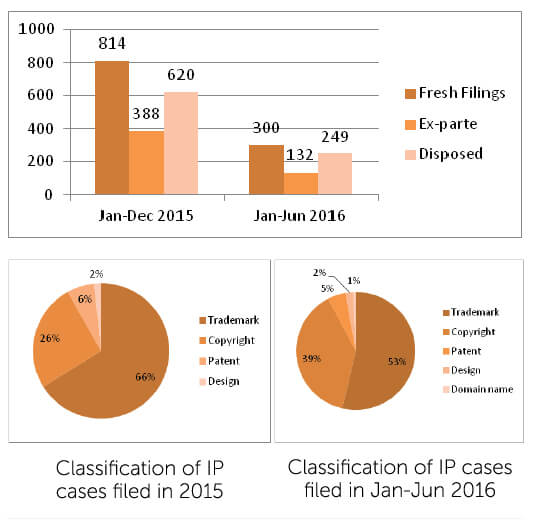 Trade Dress:
Seven Towns Ltd. & Anr v. M/s Kiddiland & Anr. (Rubik's Cube case, September 2016), the Delhi High Court while granting interim injunction in favor of the Plaintiff, based on its trade dress rights, observed that the points of similarity between the two competing trade dresses are to be emphasized in ascertaining consumer confusion, and not the points of dissimilarity. Also, the plea of the dissimilarity defense must demonstrate over-all dissimilarity rather than mere points of dissimilarity or variations in detail.
ITC Ltd. v Britannia Industries Ltd. (September 2016), The Delhi High Court while granting the interim Injunction in favor of the Plaintiff, based on its Trade Dress Rights in the packaging of 'Sunfeast Farmlite Digestive – All Good' biscuits, restraining Britannia Industries Ltd. from using "deceptively similar packaging" for its 'Nutri Choice Digestive Zero' biscuits, observed that to attain reputation a product need not be in the market for a number of years. Popularity can be achieved over a short period of time and the trend of sales can be indicative of that growing popularity. Also, where a product is an eatable, the colour scheme of packaging plays an important role in determining the initial choice of consumers.
End of a long battle for the mark "PRIUS"
Toyota Jidosha Kabushiki Kaisha v. Deepak Mangal & Ors., was a seven year long battle fought by Toyota against Prius Auto Industries and Prius Auto Accessories Private Limited for its trade mark 'PRIUS', ended with victory for Toyota at the Delhi High Court on July 8, 2016. In addition to permanent injunction and cost of litigation, punitive damages to the tune of Rs. 10 Lakhs were awarded to the plaintiff. It was one of the first instances of high amount of punitive damages being awarded.
Supreme Court of India on Forum non conveniens
Indian Performing Rights Society Ltd. v Sanjay Dalia & another, the judgment pertains to issue of jurisdiction enshrined under Section 62 of the Copyright Act, 1957 and section 134(2) of the Trade Marks Act, 1999 with regard to the place where a suit can be instituted by the Plaintiff. The Supreme Court of India interpreted both the provisions in a purposive manner holding that if the Plaintiff resides or carries on business or personally works for gain at a place where the cause of action, wholly or in part, has also arisen, he has to file the suit at that place and not at some far flung place where it has a branch or associated offices.